Dental Tourism in Turkey
Turkey is quite advantageous compared to many countries in terms of dental tourism. Health services implemented in Turkey; It provides the opportunity for tourists to be treated at a more affordable price. Apart from this, Turkey is also an ideal and attractive country to have a holiday while being treated.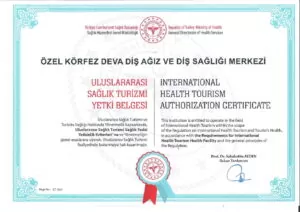 Why Should You Prefer Turkey in Health Tourism?
• Having an international airline such as THY, which provides access to the most flight destinations in the world.
• The fact that health institutions in Turkey serve with the latest technological infrastructure.
• Well-educated and specialized personnel working in Health Institutions.
• Our country's suitable climate, historical and touristic civilizations center.
Why Should You Prefer Balıkesir in Health Tourism?
The number of patients coming to our country for dental treatments, especially from European countries, has increased greatly in recent years. The most important factor for this is patient satisfaction. Balıkesir is among the provinces preferred by foreign patients; With its climatic conditions, natural beauties, historical and cultural heritage, sea and thermal springs, it allows the tourist both to perform their treatment as a health tourist and to have a holiday experience. Edremit, which is the third largest district of Balıkesir, is the common point of Altınoluk, Güre and Akçay neighborhoods and thousands of local and foreign tourists. Kaz Mountains, which are accepted as the second cleanest air with plenty of oxygen in the world, are within the borders of Edremit. With the magnificent beauty of the Kaz Mountains, you can go for a walk in the fresh air and enjoy the nature. When you come to Edremit, olive trees welcome you. Edremit is one of Turkey's most important olive centers. The economy of the district is largely dependent on olive cultivation. Edremit Güre Thermal Springs is one of the leading health tourism centers of our country. There are accommodation opportunities around the hot springs, which host thousands of people for the treatment of many ailments. You can swim at Altınkum Beach, the most beautiful beach of Akçay, and enjoy the sea and the sun all day long. Akçay beach is right across from our clinic. You can swim there whenever you wish, and drink your tea and coffee accompanied by the sea air. Ayvalik district; It is located right across the Greek island of Lesbos. There are 22 islands connected to the district. The largest of these islands is Cunda Island, known as Alibey Island. The most beautiful place to watch the sunset is the Devil's Table. The distance of Ayvalık district to our clinic is 46 km. Asos; It is located on the shore of Edremit Bay. The most famous bay of Asos is Kadırga Bay. With its glassy water, it is one of the most beautiful places to swim in Asos. The distance of Asos to our clinic is 55 km. Thus, you can choose us for both summer and winter holidays and for your treatments. There are daily flights from Kocaseyit Airport in Edremit, connecting to Istanbul. The distance from the airport to our clinic is 15 km. As Deva Tooth; In order to make the pre- and post-treatment process comfortable for our patients who want to come to Turkey for dental treatment within the scope of health tourism; We have an agreement with the Ramada hotel in Güre. Accommodation service for our patients, We also offer transportation and transfer services. We carry out every stage in accordance with international standards.
With our 22 years of experience, our Deva Dental Center continues to grow and develop by saying "patient health and satisfaction is our primary priority" since the day it was first established.
What are our Deva Diş Dental Tourism Procedures?
We offer free preliminary diagnosis to our foreign guests who want to visit our Deva Dental Center for dental treatment within the scope of health tourism. We ensure that our patients abroad who want to have dental treatment can benefit from our free pre-diagnosis service if they send us
their Panoramic X-Ray dental films via WhatsApp Application ( +90 546 268 0 434 ).
Our physicians, who examine your sent X-Ray film, make the most accurate and fastest treatment planning for you, ensuring that you receive your treatments without disrupting your holiday experience.
We will determine the most appropriate treatment stages for you by determining a dental travel plan in line with the cost of treatment, treatment time planning or your request for flight ticket accommodation and transfer services, which will be sent to you by our international patient coordinator.
With the treatment planning approved by you, all preparations will be made to turn your dental journey into a hassle-free experience.
Services we offer to our foreign patients:
• Transportation and Accommodation
• Treatment Plan
• Payment Plan
• All oral and dental health treatments
• Post-treatment controls and follow-up
Our Dental Treatment Procedures
• Contact: Share your treatment request and contact information with us with the form below
• Planning: Let's plan your treatment and vacation process with the information you have provided.
• Treatment Period: 7-10 days
• Control Process: After your treatment process is over, let's make your final check before leaving and review the whole process to complete your treatment.